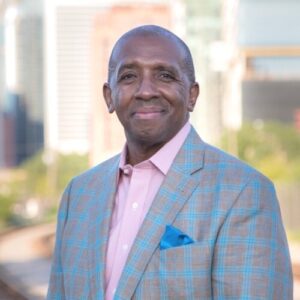 We recently connected with Mark Wattley, Chief People Officer of Cooler Screens to get his thoughts on Black history, wisdom for the workplace and his hopes for the next generation. Read Mark's insights here:
 What does it mean to be a history maker?  
Often times when we refer to "history makers" we are paying tribute to those who made large scale significant impacts:  Frederick Douglas; Harriett Tubman; Thurgood Marshall; Martin Luther King; Barbara Jordan; Stacy Abrams; Barack Obama, etc.  All of whom are worthy of endless praise and respect.  But what gets lost are the history makers who were the smaller ripples of change and impact in smaller ways and without recognition – small neighborhood organizers; community activists; Black mothers and fathers; mentors; teachers, etc. In so many ways, these folks may not have "made" history, but they certainly had and continue to have an impact on shaping and influencing history.
 What role do you think people of color have played in history?  
First, I know there is an open debate on terminology:  "people of color" vs "Black" vs "African-American."  My preference is "Black."  For me, it is more definitive of who and what I am.  Beyond terminology, you can not talk about any aspect of American history without talking about the role and impact of Blacks.  We are truly woven into every aspect of this Country's being – the tragedies and the triumphs.  Much of that impact is not meant for celebration but for acknowledgment, for remembrance, for respect.  Of course there is plenty to celebrate in terms of contributions and advancement:  science, arts, politics, culture, business, and on and on.  There is no arena that has not benefited from the impact of Blacks.
 Who has inspired you and how so?  
One of my biggest sources of inspiration has always been my oldest Brother, Pete.  He is an extraordinary "everyman."  He is wise beyond words with common sense for days!  Not only did Pete have a huge impact on shaping both me and my middle Brother, Darrell, he has also been the most amazing single Dad to his children.  Pete's gift is his authenticity – no airs and nothing to prove to anyone.  He says what he means and backs it up with living examples.  I admire his ability "to keep it real" in all ways.  That is rare these days.
 What does being a person of color in today's America mean to you?  
Being Black in America is a beautiful thing – incredible pride and heritage.  The challenge is from those who don't or won't see it that way.  Many, many people and generations before me fought, suffered, and many made the ultimate sacrifice just so today we can still actually talk about being Black in America today.  My responsibility is to make sure that those early fights, struggles, and sacrifices were not in vain.  This is not a burden.  It's an honor.  It's a legacy.
 What has been the biggest challenge of being a person of color in the business world?  
Corporate America is not different from the rest of America.  While there has been great progress there are still challenges and plenty of opportunity to do better and to be better.   There are still challenges with just having an equal playing field for access to opportunities.  That will continue to improve as we see Blacks advancing further in Corporate America and also as we see greater success with Blacks not waiting for mainstream Corporate America to catch up.
 How do you hope your work helps future generations of leaders to come?  
It's all about exposure.  I just want to be one of countless examples that young people can look at and see someone who looks like them doing well and messaging that they also get to choose their path and go for it.
 What piece of wisdom would you impart on young people of color?  
Own who you are.  Be invincible.  Be unapologetically Black.
What is your hope for the future?  
I can't wait until we won't have to say "The First…." when a Black person's achievements are being announced or celebrated.