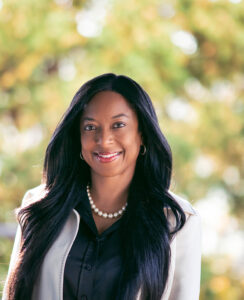 Earlier this month we had the chance to catch up with Dionne Archie, Chief People Officer with iA, she gave us her take on Black history, her hopes for the future, and wisps of wisdom for life and the workplace.
1. What does it mean to be a history maker?
A "History maker" is a person of color from past or present who forged ahead to pave the way for others despite the challenges of the racial divide. The stories of resilience encourage us to continue to persevere. These stories may come from family members, friends, members of our communities, or the many trailblazers from over the years.
2. What role do you think people of color have played in history?
While our story is often left untold, our lineage and legacy are deeply rooted in the world we live in today.  Unfortunately, when I was growing up, the history books only highlighted people of color as slaves.  I am thankful that my family made a conscious effort to share the mark people of color made on our society.  Our family conversations were often about how relatives, family members, friends, activists, and many pioneers endured against all odds.  The countless accomplishments are too many to mention.  It's exciting to see many organizations paying homage to people of color to increase awareness.  If one dares to do the research, they will discover that the significant contributions are endless and span across every aspect of our society.  
3. Who has inspired you, and how so?
The rich history of our ancestors, my family, and the many pioneers keep me inspired.  I am energized by the commitment of others to challenge the world to become a better place.  My parents encouraged me to challenge the status quo, treat people with respect, and stand up for others' rights.  Growing up with a father who was the 1st black male to attend the registered nursing program at our local college, an uncle who was the 1st black firefighter, and another uncle who was the 1st black police lieutenant in our community instilled in me the importance of running your own race and leaving a legacy.
4. What does being a person of color in today's America mean to you?
Being a person of color in today's America is truly an honor.  It means that I have an obligation to advocate for other people of color while educating others on the importance of equality.  It's exciting to have a voice in changing the narrative.
5. What has been the biggest challenge of being a person of color in the business world?
While diversity, equity, and inclusion efforts have evolved over the years, people of color are often met with challenges.  This is primarily because implementing programs and initiatives do not automatically change how people perceive or treat others.  As a result, people of color are still challenged with feeling a sense of belonging, access to opportunities, and work twice as hard to prove their worth.
6. How do you hope your work helps future generations of leaders to come?
My goal is to make sure that I cultivate work environments that provide opportunities and a sense of belonging for future leaders of color.  I hope that challenging the status quo, treating others with respect, and standing up for the rights of others will inspire all people to see the humanity in others, making the workplace and our communities a place for all to succeed and find a sense of belonging.
7. What piece of wisdom would you impart on young people of color?
Embrace who you are, pursue your purpose with passion, and focus on leaving a legacy daily.
8. What is your hope for the future?
I hope that we can reach a point where we can look past what divides us as people.  We are the human race, and we all have a part to play in adding value to the world – let's build up one another, show mutual respect, and help others realize their worth!