Click HERE to read the full article.
Procter & Gamble Co. research on packaging for liquid products is being commercialized via a licensing agreement with Innventure, a group of experts in launching new businesses.
The Cincinnati-based maker of consumer goods such as Tide detergent (NYSE: PG) decided to commercialize the research through an Innventure portfolio company called AeroFlexx. The move followed what was described as five years of extensive research and development and consumer testing by P&G.
The AeroFlexx package uses at least 50% less plastic, enhances the consumer experience and is easier to ship throughout the supply chain, Cincinnati-based AeroFlexx stated.
The flexible-yet-rigid form reduces shipping costs, according to AeroFlexx, which described it as a "revolutionary liquid-packaging solution."
The proprietary packaging invented by P&G "allows for greater flexibility in size and shape, provides efficiency in manufacturing, has no label limitations thanks to seamless edge-to-edge artwork and meets e-commerce and sustainability requirements," AeroFlexx stated.
The market for such packaging could be enormous, which could boost revenue at P&G.
The technology is being piloted in packaging for P&G's Old Spice body wash for men, Olay body wash for women and Dawn liquid dish soap as well as Mighty Mutt dog shampoo by Denver-based Blue Zebra Brands. But such packaging could also be used on products such as ketchup.
"Organizations are increasingly seeking ways to accelerate growth while reducing their environmental footprint, due in part to e-commerce and the fast-paced evolution of products," said Andrew Meyer, the Chicago-based CEO of AeroFlexx. "There is a large demand for innovative packaging solutions that delivers on both while creating a better consumer experience."
AeroFlexx will partner with Fameccanica, an Italian-based equipment manufacturer with a North American headquarters in West Chester, to commercialize the technology across all global categories with any partner.
Fameccanica is a joint venture of P&G and the Rome-based Angelini Group, and Fameccanica's West Chester location is about 3 miles from P&G's Beckett Ridge Technical Center.
While headquartered in Pescara, Italy, Fameccanica operates manufacturing facilities in North America, Europe and China with global reach for sales, service and support.
AeroFlexx chose to work with Fameccanica after a global evaluation of machine manufacturers. Fameccanica's expertise is in converting and liquid-filling equipment, which is key to the AeroFlexx manufacturing process.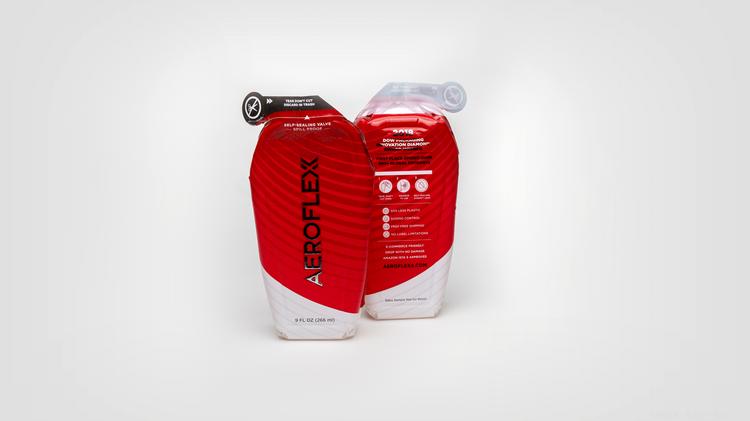 Last year, P&G earned the top honor in an annual competition that recognizes innovation in packaging designs, materials, technologies and processes. P&G was cited for developing the liquid packaging technology.
I previously reported that Orlando-based Innventure evaluates P&G technology to determine what sort of company could be created. Innventure, a Wasson Enterprise Partnership that deals in venture capital and private equity, seeks to commercialize disruptive technologies.
In addition to AeroFlexx, Innventure has launched Ohio-based PureCycle Technologies to commercialize P&G research involving a polypropylene plastic recycling process.
The Procter & Gamble technology, which can remove virtually all contaminants and colors from used plastic, has the capacity to revolutionize the plastics recycling industry by enabling companies around the world to tap into sources of recycled plastics that deliver nearly identical performance and properties as virgin materials in a broad range of applications, according to P&G.
P&G's objective is to generate maximum value from its research and development as well as its intellectual property.