"As we come to the end of Women's History Month, I'd like to share a few thoughts. When people say, "Here's to strong women, may we know them, may we be them, may we raise them", that was my life. I feel very honored to have been surrounded by strong and inspiring women my whole life, personally and professionally.
Professionally, I have always been a part of a team that supports and encourages the advancement and achievement of women. We raised each other up, encouraged self-development, and shared opportunities with each other. Now that I'm in a role where I lead a team of women, I find it important to continue those practices. I encourage them to lead, give them opportunities to cultivate new skills, grow pre-existing ones, and give their voices space to be heard. When the opportunity arises, I hope these ladies will do the same for other women they have the chance to lead.  
Personally, my mom and both of my grandmothers always taught me that my voice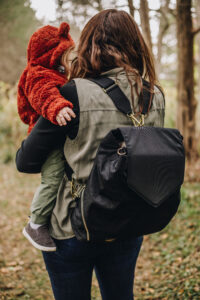 mattered, that I really could do anything I put my mind to, and that I may fail, but to keep going. I think it does a lot to have a strong base, and I did. It gave me the courage to start my own company, and it gives me the courage to get up every morning and lead others.
Now I'm a boy mom and, as I raise him, I will raise him to be a supporter of women. My daycare provider told me she is raising her boys to be men with whom someone's daughter is safe and supported. That is what I am doing for Harrison. It is important for me to work, and to show him how everyone can work together and support each other for the greater good. 
Women's history extends far beyond the month of March. It is witnessed and lived every day. May we know the female history makers, may we be them, and may we raise them." 
Lindsay Wasson Lingle
Mother,  Daughter, Wife, Sister, Entrepreneur 
Senior Vice President of Marketing & Operations